Ice cream in Jenin
(2011) oil on paper mounted on board, acrylic resin finish
Holon Suburb with Danger 2014
Oil on canvas with collage element 110x140cm
Girl with Doll (2014)
oil with tape on canvas.jpg
israeli (Security/insecurity) 2014
acrylic on perspex, spray paint
Postcards from the Holy Land (2014).jpg
Postcard sized watercolour, pen and wash, and oil sketches of quintessential biblical landscapes and contemporary urban scapes with incongruent 21st century publicity and notices
Good friends from both sides- dialogue happens (2010) mixed media on canvas with
(2010) mixed media on canvas with
Shoppers in Ramallah
(2011) digital painting:mixed media on board with resin finish
Jewish Mother, Christian Pilgrim
(2011) mixed media on paper, mounted on board, resin finish
Reading (overlooked)
(2013) oil on board
figure study
2013 Household enamel on paper
Bedouin Woman and Child (Engineer's
Bedouin Woman and Child (Engineer's family) (II) (2013) mixed media on board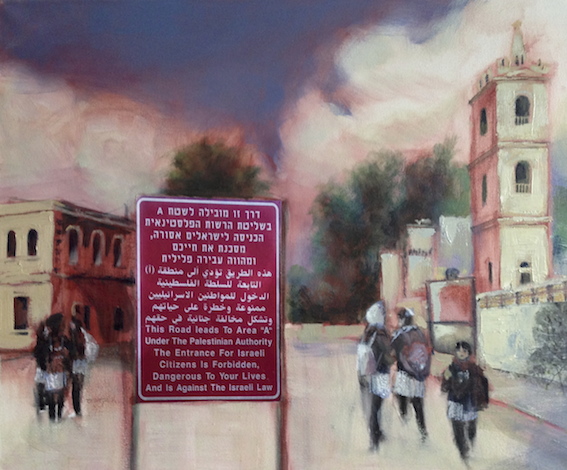 School's out (Beit Jalah)
School's out (Beit Jalah) (2013) mixed media on canvas
child, Hebron, past and present
tondo, collage and oil, resin finish
jerusalem house (demolished)
oil on canvas with wire, resin finish
Safe/Unsafe Passage (beit jalah)
(2013) oil on canvas
figure studies
enamel on paper
Tent of Nations
Tent of Nations (I will not be enemies) (2013) triptych mixed media on canvas
Exposed/View over to Gaza
(2013) mixed media on canvas with acrylic resin finish
IMG_4909.jpeg
child at play (contemporary fort)
2013, oil, collage, canvas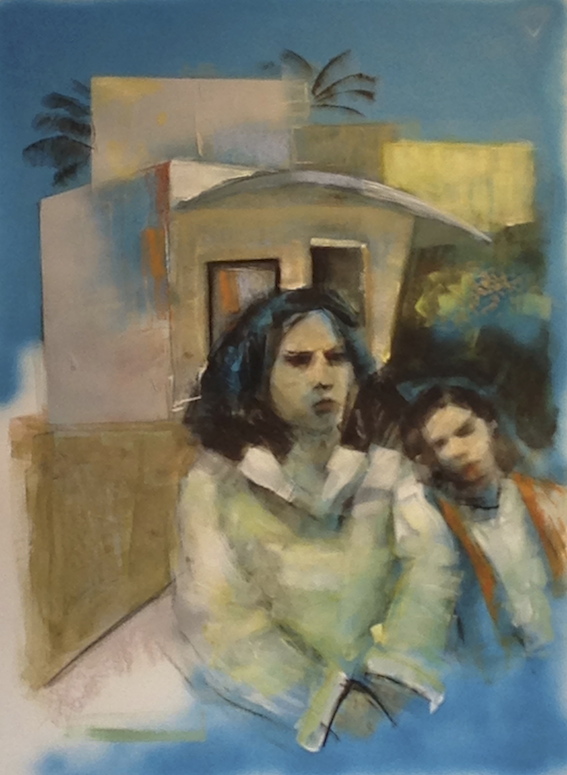 shelter/unsheltered in Sderot
enamel on paper
Bedouin Woman and Child
Bedouin Woman and Child (Engineer's family) (2013) mixed media on board
teenage shoppers (contemporary fort)
oil on canvas, partial resin
engineer's wife and child
Diptych-Veiled assumptions I and II- Jews and Christians Wear Veils Too (2010) d
Jews and Christians Wear Veils Too (2010)
Gillian Holding. Two Palestians (Guard and Dispossessed) 2010. mixed media on ca
2010. mixed media on canvas, acrylic resin finish
Teacher with Boy
(2011) mixed media on paper mounted on board with resin finish
Some Children Have Violin Lessons in Ramallah (2010) mixed media on canvas with
(2010) mixed media on canvas with
Just because I live in Jerusalem doesn't make me religious (and sometimes Jews a
(and sometimes Jews are black)
(Palestinian) (Muslim)
2010. Mixed Media on canvas with resin finish, 10" x 12"
(Palestinian) (Christian)
2010. mixed media on canvas with resin finish,
Same Difference/the Holy Land (a 21st century travelogue)
These paintings were made after several visits to Israel and Palestine, most recently travelling in 2013 as part of a small mixed group of Leeds Muslims and Jews. The biggest challenge for me in creating this work is the constant tension I feel in the choices I make between form and content on a subject which is so close to my heart. Nothing is simple on this issue. Nuance is everything.
The 'portraits' play with ambiguity, and challenge common assumptions about identity. They reference the dangers of simplistic labels and categorising. They are not 'portraits' in the normal sense, but rather are depictions reflecting my personal thoughts and ideas in response to seeing these subjects within their everyday.
The later works move away from close scrutiny of individuals and look more widely at a landscape familiarised through the classical landscape and travelling tourist sketchbook tradition of the 18th and 19th centuries. But the land and urban scenes depicted in these works can never be "just" landscapes. Superficially ordinary surroundings are background to superficially ordinary daily activities; shopping, playing, walking. The oddly dissonant elements present remind us that these "normal" lives on both sides of the green line are anything but.